Contact Us
Schedule your appointment
New clients receive a free initial consultation
Bryan D. Harris, CPA
Senior Tax Manager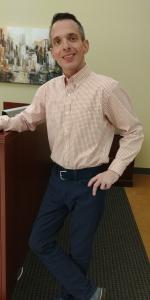 Office 314-880-4352
Fax 314-880-4351
Email
Loading Email...
As the newest member of the Sabino & Company team, Bryan brings over 18 years of public accounting experience in tax planning and consulting for businesses and high net worth individuals.
With expertise in high net worth individual tax planning and consulting, business tax structuring, merger and acquisition tax planning, retirement plan implementation and various tax minimization strategies, Bryan enjoys working closely with clients to help them achieve their business and personal financial goals.
Bryan looks forward to bringing his client first and focused approach to the Sabino and Company team, which aligns perfectly with the other team member's service oriented approach to being a trusted business advisor to clients.
Bryan is a 2003 graduate of McKendree University in Lebanon, IL. When not at the office, he enjoys running, St. Louis Cardinals baseball, and spending time with his dogs, Eddie and Bonnie.